10 Inspiring Happy Black Women You Should Know in 2014
I've been blogging since 2007 (2006 if you count Myspace LOL), and one of my favorite things to do besides writing my own posts is reading other inspiring blogs. It's always such a gift to discover another writer – especially a black woman writer – who has similar ideals, mindsets and experiences.
As we begin a new year, I wanted to share with you a short list of writers and bloggers within our Happy Black Woman community who are doing some great things this year. All of these women offer insight, resources and tools to help you create and live your ideal life. They keep it real when it comes to taking care of your health, embracing your inner beauty, honoring your spirituality, pursuing your goals, building your business and having the confidence to be who you really are.
Also known as "Afrobella," Patrice is a bright light who encourages women to be beautiful in their own skin. She shares all the latest in beauty, hair and culture on her blog. I've been following Patrice's blog for years and had the pleasure of having her as the co-host for our Chicago Happy Black Woman Happy Hour last year! Her journey from newspaper reporter to internationally-recognized beauty blogger continually inspires me and so many women in our Happy Black Woman community.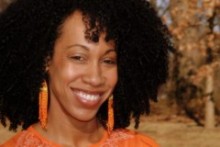 Kandace is a Certified Spiritual Life Coach, Reiki Practitioner and teacher/student of A Course in Miracles. I first met Kandace as my coaching client last year and was instantly touched by her work. It's been exciting to see such rapid progress on her blog and in her business to help others cultivate a daily spiritual practice.  Kandace offers a From Stress to Peace 21-Day Challenge and her spiritual memoir, From Stress to Peace: An Intimate Journal on the Journey from Living in Darkness to Living in the Light, is due out later this year.
Lisa is an award-winning media personality, producer, writer and CEO of Inspired Life Media Group, a company that creates original premium content for brands, broadcast channels and platforms. I "met" Lisa virtually by phone a few years ago and have kept up with her work ever since. There are two things I admire about Lisa: 1) she's unapologetically brilliant and 2) she's a master at networking. She does so much, so well, that it's always motivating to track her various projects throughout the year. Lisa was also the amazing co-host for our LA Happy Black Woman Happy Hour! She shares high-level insight about creativity, entrepreneurship and personal development on her blog and has published several inspirational books for women.
Chivon is a writer, speaker and wellness coach who inspires women to put themselves on their to-do list. I first connected with Chivon a few years ago as a student in one of my courses and she has since created a supportive online and offline tribe. Her blog offers resources and tools that help women approach health and wellness in a loving and non-judgmental way. Chivon recently launched Lighten Your Load, a 21-day e-course to help you prioritize your own self-care this year.
Candace is a writer, personal transformation consultant and one of the most calm, peaceful women I've ever met. Her blog offers simple wisdom for life and promotes peace, love, and authenticity. Candace was one of the first women to reach out to me here in Hawaii! She recently launched her business, the Aloha Center for Transformation & Wellness to share the healing power of love and the wonder of self-discovery.
Valorie is a bestselling author, speaker, coach, founder of the CAPP Institute and one of my mentors when it comes to empowering women. I took her Coach Training Intensive in DC a few years ago and it helped propel me forward into my purpose of supporting women on a deeper level. Valorie was also gracious enough to serve as a guest speaker for one of our most popular teleseminars last year, Happy Women Live Better! You can learn from Valorie on her blog and through her books and programs. Her next Coach Training Intensive is in May 2014 and I highly recommend you attend if you're building a coaching business!
Wilma Jones is a motivational speaker and author of Living Happier After: 20 Women Talk About Life After Divorce. After 19 years of marriage, she got divorced and made the choice to become better, not bitter as a result. I first met Wilma at our Charlotte Happy Black Woman Happy Hour. Since then, I've gotten to know her work through her progress in my courses. I also had the opportunity to hear her give a moving speech that testified to the power of positive thinking and personal transformation after divorce. You can learn life lessons from Wilma on her blog and in her "Better, Not Bitter" column on Rene Syler's Good Enough Mother.
Monique is a writer and vlogger (and minimalist!) who helps families cultivate a vegan lifestyle on her blog, Brown Vegan. Ever since we met a few years ago at one of my first Happy Black Woman happy hours in DC, I've had the pleasure of watching Monique grow her blog, business and Youtube following. She keeps inspiring her tribe with consistent content and fun videos (something I need to do more of!). Monique recently published a guide to help families transition to a vegan lifestyle called Ready, Set, Go Vegan.
Terri is a personal development blogger and professional speaker who inspires young women with her story of triumph over adversity. Her blog, Mocha Girls Pit Stop is for young women who want to become their best selves. Terri also served as my virtual assistant last year and helped manage our two major Happy Black Woman live events! She recently published a free ebook called, Break Up With Procrastination: 7 Steps to Help You Follow Through With Your Goals.
Through her Sista Sense blog, LaShanda helps women entrepreneurs learn how to build successful businesses online. Her blog was one of the first ones I came across years ago when I was learning about internet marketing and how to use it in my business. There aren't that many women of color who teach and coach in this area, so I'm excited to see the growth of her social network, Black Business Women Online and her ongoing Power Circle Conference (wish I could go this year!).
Leave a comment: Who would you put on your "top 10" list of women to follow for inspiration this year? Please share your favorites below!
The post 10 Inspiring Happy Black Women You Should Know in 2014 appeared first on Happy Black Woman.