4 Years a Nomad: A Photo Timeline of My Location-Independent Journey
Body-painted and crazy-eyed at the Full Moon Party in Koh Phangan, Thailand – April 2013
I can't believe it's been 4 years since I gave up my apartment in Washington, DC.
In August 2011, I ended my apartment lease.
In the process, I had to get rid of most of my stuff by selling, giving away and donating my belongings, including clothes, shoes and furniture.
My initial goal was to simply reduce my living expenses so I could save money to travel.
This is what I wrote back then:
"…most people who say they want to travel the world NEVER get past the wishful thinking phase because of their limiting beliefs around money. Many people still think traveling is just for rich people or celebrities! Of course, this negative mindset prevents us from seeing ALL the possibilities available to us. There are so many steps we can take that will get us closer to any goal we have for our lives, if we only take action."
Even so, I thought I would just "experiment" with not having an apartment for a year or two to see how I liked it and how much it could really help me achieve my travel goals.
But what ACTUALLY happened during that time is that I learned so much about myself – who I really am, what I really want and who I really want to be.
The main thing I learned is that I don't just enjoy traveling.
I absolutely LOVE it!
I also love the fact that I can spend the same money I would use to pay rent or a mortgage and just use it to fund my monthly living expenses as I travel around the world.
My wanderlust has taken me all over the country and even abroad with so many more countries and cities to explore!
So far, I have been to Canada, England, Jamaica, France, Greece, Italy, Spain, Thailand, Mexico, Israel, Argentina and across the United States from Atlanta to San Diego.
But out of all the places I've been, Honolulu, Hawaii is definitely "home" for me.
Along the way, I've been practicing minimalism, which is all about living with less – maintaining only what you need and love…and not much else.
In my case, everything I own fits into a suitcase and I carry my laptop with me in a small backpack.
I do not have anything in storage.
And four years later, I still don't technically "live" anywhere as I haven't had an official lease since my last apartment in DC.
Instead, I've rented bedrooms, sublet apartments, booked Airbnbs, found the best budget hotels, splurged on 4-and 5-star properties, lived in extended stay studios and sometimes even stayed with family members. (I typically stay in one place for at least a week, up to weeks or months at a time.)
All in the name of freedom.
At this point in my journey, I thought it might be helpful to post a brief timeline – in photos! – of my experience exploring location independence – the ability to live and work anywhere in the world.
Come with me down memory lane to many of the places I've visited, lived in and loved over the past 4 years.
The first room I ever rented in Lorton, Virginia for $600 a month – September 2011
Hibachi dinner at Tanaka of Tokyo in Honolulu, Hawaii – November 2011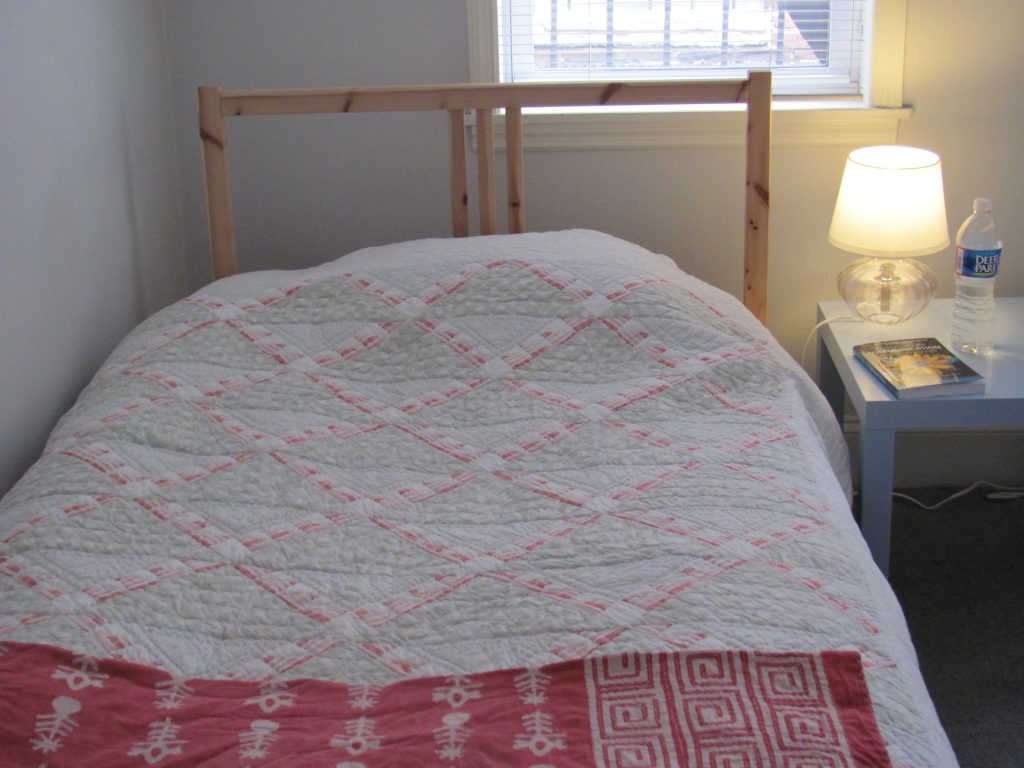 The room I rented in a beautiful townhouse in Baltimore for $450/month – February 2012
Exploring Baltimore – February 2012
Savoring the sunset in Santorini, Greece – August 2012
Taking a cooking class in Florence, Italy – August 2012
At the Leaning Tower of Pisa, Italy – August 2012
Walking through the Acropolis in Athens, Greece – August 2012
Hiking the Cinque Terre in Italy – August 2012
Discovering Gaudi's works in Barcelona – September 2012
Loving fall in Minnesota – November 2012
At Shenandoah Park in Charlottesville, Virginia – March 2013
The room I rented in Charlottesville, Virginia for $800/month – March 2013
Enjoying the view in Koh Tao, Thailand – April 2013
The day I sold my car! – October 2013
At my virtual office in Honolulu, Hawaii – October 2013
The room I rented in Honolulu, Hawaii for $900/month – February 2014
Touring the island of Maui, Hawaii – May 2014
Hiking Koko Head in Honolulu, Hawaii – July 2014
Running my first 5K at Kaneohe Bay Marine Corps Base, Oahu, Hawaii  – September 2014
At Chichen Itza, one of "Seven Wonders of the World" in Yucatan, Mexico – November 2014
Working by the pool in Playa del Carmen, Mexico – November 2014
Skydiving in Playa del Carmen, Mexico – December 2014
Bike-riding in San Diego, California – February 2015
Chillin' with giraffes at the San Diego Zoo – April 2015
Selfie in Paris near the Eiffel Tower – June 2015
Touring Makhtesh Ramon in the Negev desert in Israel – June 2015
Swamp tour in Louisiana with a barefoot man from the bayou – August 2015
 Wine touring in Mendoza, Argentina, in the foothills of the Andes Mountains – September 2015
What I've Learned About Being Location-Independent
The biggest lesson I've learned throughout this journey is that I GET TO CHOOSE.
I get to choose how I live my life.
I get to choose whether I want to "settle down" or move to a different place every month.
I get to choose which countries to cross off my "travel bucket list."
I get to choose freedom and adventure, over and over again.
On my own terms.
And that, for me, is priceless.
The post 4 Years a Nomad: A Photo Timeline of My Location-Independent Journey appeared first on Happy Black Woman.